Manually operated Flood Gates
Huntons have extensive experience in the design and fabrication of manually operated flood gates. An example of this was the completion of the Brasted flood alleviation scheme in 2007. Comprising of seven gates and associated flood walls. Each gate custom built for personnel access to vehicle access and range from 1m span to 7m including both sit both on and off seating. The gates were finished with oak infill panels to fit neatly into the surrounding of a small village location.
Example shown – Brasted flood alleviation scheme, 2007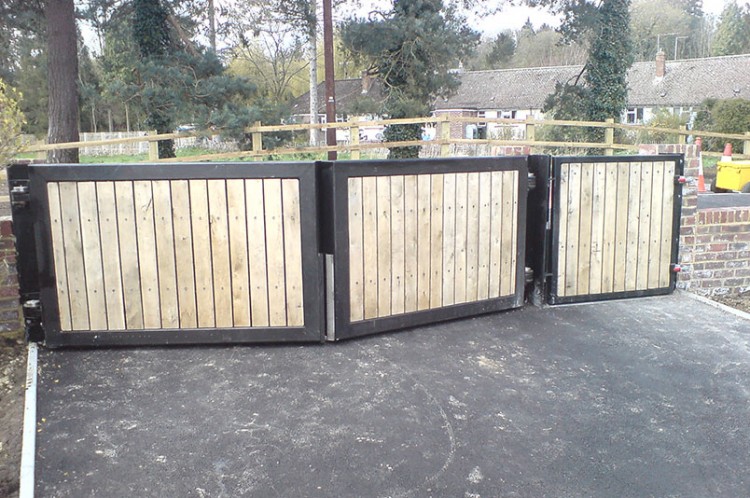 Fully Automated Flood Gates
Drawing on our knowledge of river infrastructure, Huntons are capable of fully automating flood gates and incorporating hydraulic or mechanical means of operating the gates. An example of this was the Chepstow flood gate installed in 2005. Design and constructed by Huntons and installed over a medieval slipway in South Wales, this mitred floodgate closes provides an opening in the flood wall to give access to the river Wye. Each gate leaf is manufactured in 316 grade stainless steel clad with EKKI timber and operated by stainless steel hydraulic rams. the gates can be operated locally for access to the river, but will operated automatically responding to either ultrasonic level detection or remotely from a central control centre room. This creates complex automation risk issues which were overcome by a combination of CCTV and an array of sensors to detect potential hazards in the gate opening.
Example shown – Ipswich, 2018

Sliding Flood Gates
Huntons have designed and manufactured a variety of types of flood gates including a sliding gate as shown below which was installed on the Isle of Wight. Utilising a series of guide rollers and support channels the gate could be withdrawn behind the flood defence wall to minimise the working area of the gate. the gate was operated via a manual winch system, although this type of gate can be operated via powered means.
Example shown – Isle of Wight Flood Gates, 2013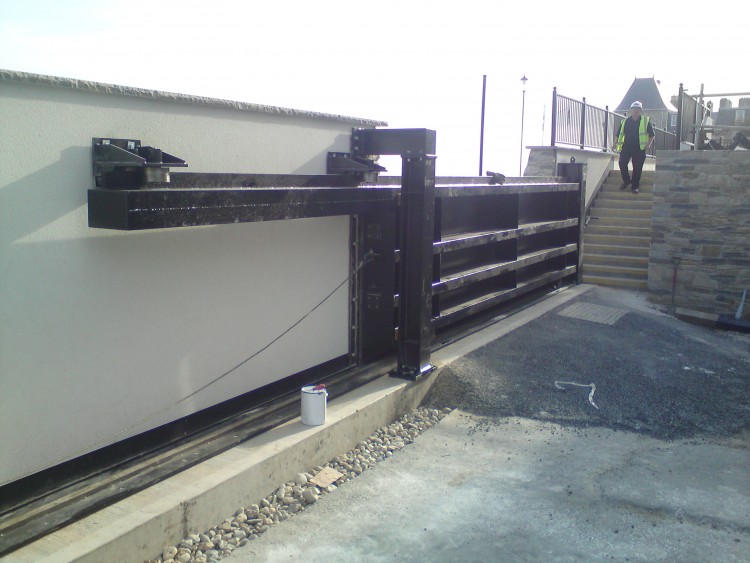 Bespoke Flood Gates
With in house designers and fabrication facilities, Huntons can produce flood gates for any range of specialist application. In Lewes, East Sussex Huntons designed and fabricated three gates as part of a flood alleviation scheme featuring stainless steel sealing plates, guide roller wheels and timber cladding for aesthetics. An unusual feature of this gate was the flush sill beam creating an entirely flat cill plate to eliminate trip and slip hazards due to the public access. This required a rising hinge system to stop the gate dragging along the floor and gearbox arrangement.
Example shown – Lewes Flood alleviation scheme, 2010